About the team behind My Finish Line: Trystan
Trystan Bevan is one of the founding members of My Finish Line. Read his story.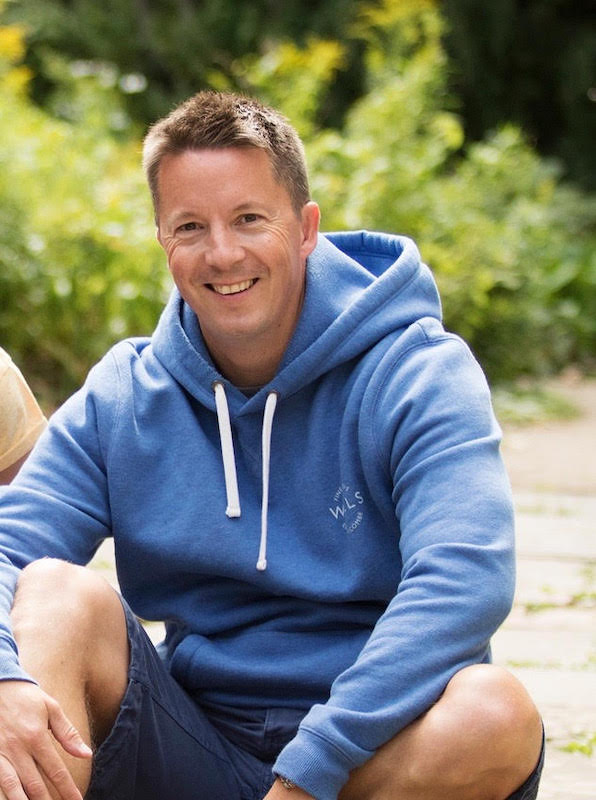 by Trystan Bevan
My journey leading up to meeting Sahar in a coffee shop just off Wind St in Swansea late 2019 is a varied and colourful one. It begins with a rampant inability to play the sport I enjoyed watching the most (Rugby – an avid fan of Neath Rugby Club during their late 1980s heydays), but with a nagging persistent ability to run which led me to representing firstly Wales in the 400 metres Hurdles and Michigan State in the 400m, competing against some of the best athletes in the world on the American collegiate circuit.
My passion for fitness came initially from the 1984 Los Angeles Olympics (Carl Lewis becoming my all time hero) and also seeing my own local heroes, the Neath rugby team, run through the town on their training runs late on Tuesday nights and then demolishing all-comers every Saturday; thereby ensuring a direct link in my own psyche between hard work and success. As a result, I became familiar with the concept of punishing myself through running - with pain being the measurement of effort - until I joined Swansea Harriers as a teenager where I was fortunate enough to train with some elite coaches and runners. Many of these who become European and World Championship medallists. This wouldn't be my destiny however, (I wasn't good enough, quick enough, or talented enough). The seed of learning from techniques and information to make small gains started here – purely in order to be able to live with better athletes. Sport by this time was in my blood, and an inspiration to everything I did.
This became a necessity competing on the NCAA (American) circuit, where I would find myself running championship-qualifying times while finishing sixth or seventh to world-beaters. Michigan State had Olympic champions on their coaching staff and on their team, and before long it became self-evident that I simply didn't belong in that peer group. What I learnt there in terms of energy systems, elite practices and coaching styles however gave me probably three decades' worth of experience and information in a tenth of that time. It also made me appreciate the importance of being honest, because you can't cheat a stopwatch or a score.
Upon returning to the UK just before the turn of the millennium, I started working with Newport Rugby as what was then called a 'fitness coach.' I was thrown in at the deep end, being suddenly immersed coaching world-class rugby players while only being in my early twenties. This led to being head of performance at firstly Cardiff Blues for a decade and a half – winning a few titles - and then more recently at Wasps. Having been at the sharp end of professional sport for nigh-on two decades, I have been lucky enough to rub shoulders with, and learn from, some of the best players and coaches in the world. This has placed me in a privileged position of having a wealth of experience and knowledge in an area that I am also passionate about.
Things have now come full circle because I have found my career intersecting with not only team sport players, but Olympic athletes, sprinters and heptathletes - all of which now have become an integral part of team sport support systems. My involvement with My Finish Line enables my passion and understanding of sports coaching to meet with a tech start up, giving a product that hopefully people can enjoy. Most of the sessions on the Workout Generator are ones that elite sportspeople the world over have used at one time or another, or have been designed with the population of My Finish Line in mind.