Dedication and Focus
How Your Attitude Can Shape Your Journey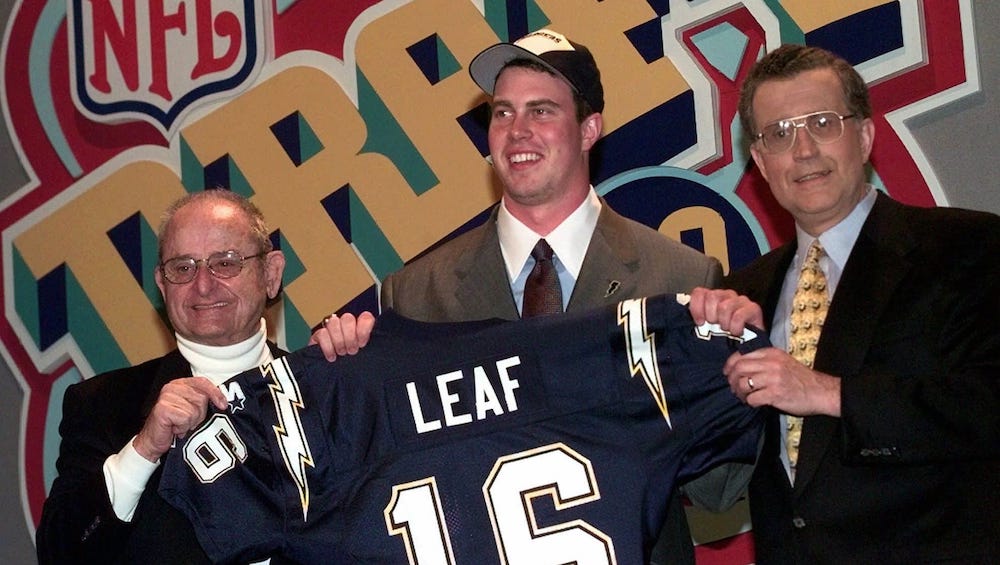 by My Finish Line
"
The NFL Draft is one prime example where organisations have literally millions of dollars to lose if they fail to get their athletic judgment right. They measure, appraise and evaluate in miniscule detail. There are a multitude of athletic tests done (run, jump, catch, sprint, lift weights); the mathematical statistical historical analysis on their college careers exhaustive; psychological appraisal tests; interviews with previous coaches and peers, as well as direct player interviews. All the possible stones are turned over in order to yield as much information as possible to get the right selection.
During the 1998 NFL Draft, the Indianapolis Colts had a difficult choice to make with their number one draft pick. That year's Collegiate list of players didn't produce a clear and obvious primary pick as is often the case. There was ambiguity and a difference of opinion on who the Colts should select as Quarterback, yet it seemed like a no-lose situation, such was the quality of both the candidates on offer. The choice was between University of Tennessee's Payton Manning and Washington State's Ryan Leaf. Both were at the time considered equal as far as talent, potential and desirability for any NFL team.
The Colts had a new owner, a new general manager, and also a number one draft pick of their choice to inject a catalyst into their rebrand. In this light there was a great opportunity; but a lot hung on this decision. The Colts' approach to their decision reflected its importance – they left no stone unturned in their analysis of their potential prospects. The one-on-one interviews they had with the players revealed a significant amount when it came to deciding who was going to lead the franchise to a new beginning and hopefully a brighter future. Manning apparently impressed everyone from the Colts' staff with his interview, asking questions regarding style of play and also probing his potential employers on the reality of what his life would be living in Indiana. This was in direct contrast to Leaf's interview.
Ryan Leaf wasn't even at his own interview. He had run late from a medical exam; and missed the interview completely. Furthermore, he neglected to inform the Colts of his non-appearance. As far as intangibles went, that was extremely significant. The Colts, as history would tell us, went for Payton Manning, and there was as much celebration to be heard among their fans as there were groans of a missed opportunity from others. Ryan Leaf was selected as the very next pick in the draft, and he found himself boarding a plane to San Diego to play for the Chargers, delighting their west coast fan base on their talented acquisition.
Payton Manning would very quickly find himself tagged as the "great preparator". He would be the first to arrive to study game film and the last to leave. His focus and attention to detail became infectious and famous among his peers within a single season at the Colts. Brock Osweiler, his benefactor of the Broncos quarterback jersey even joked that Manning might have developed a photographic memory based on the hours he spent analyzing plays. At the time of his retirement from the NFL, Manning's off field traits may have led him having the tag of 'most time spent in video analysis', but on the field he also had most yards ever, most wins ever, most touchdowns ever. These things rarely come down to luck.
Ryan Leaf sadly will in all likelihood be forever tainted as the number one "Draft Bust" in NFL history. The quarterback that seemingly had it all imploded. The suggestion of nonchalance, brought by the Colts interview above, would be magnified by constant, continuous problematic behaviours from the time he appeared in San Diego. Manning's earnest, focused inquisitive approach to future life with the Colts contrasted with Leaf's entry into the Chargers. The very first night after the draft, having signed a US$31 million 4-year contract, he flew on the jet of the Chargers' owner to Las Vegas for an all-night party. He yawned his way through the following morning's press conference. He then skipped the final day of a mandatory NFL symposium earning him a $10,000 fine. Not a great start, yet sadly for Leaf and the Chargers, the sign of things to come.
Leaf stated openly in press interviews that there were three things important to him. Money, power and prestige. Being a starting quarterback for the San Diego Chargers ensured that all three came his way. His focus was not on becoming the best player in the league, or the most consistent quarterback, but on satisfying his own need for financial gain. This attitude was already sowing the seeds of his downfall. He had achieved his goal of attaining those "big three", however at the significant cost of what made him achieve those in the first place – his ability to play sports. Images appeared of him on golf courses while his fellow players studied game films. He developed a reputation for a poor work ethic, fragmented inconsistency and even argued with fellow Chargers live on television. One of his own team mates remarked that playing with Leaf was like a nightmare you can't even imagine and within 6 months of his first NFL season Leaf was benched for a replacement quarterback. He played only ten games. Leaf had become so distracted that not only was he not focusing on his playing abilities, he was consumed entirely by external factors– a sure path to the losing dedication and focus.
A Manning-led Indianapolis lifted the Superbowl in 2006 following a steady climb during the Manning era over a decade. Payton Manning would also lift the Superbowl once again with the Denver Broncos, and would be enshrined in the NFL hall of fame as one of the greatest ever. At about the time Manning would lift his second Superbowl trophy, the long-since retired Ryan Leaf would be pleading guilty to felony burglary and drug charges. A very sad tale of divergent paths in sport
"