Don't Just Collect Data. Interpret It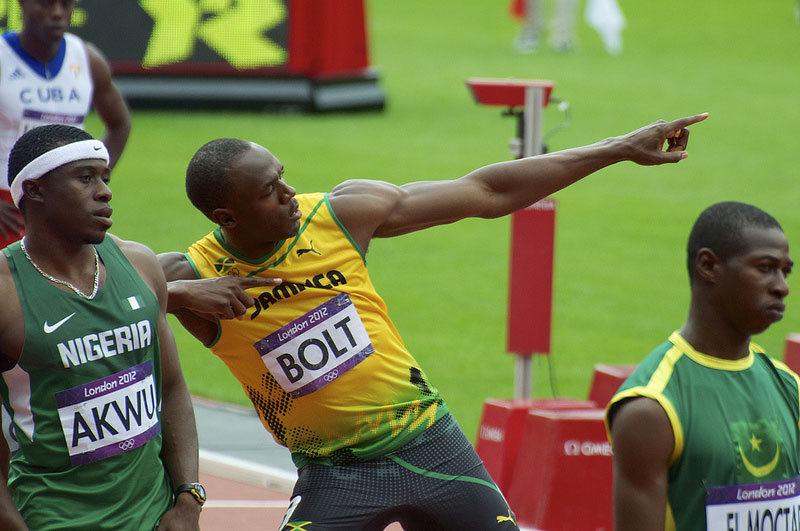 by My Finish Line
"Usain Bolt – NOT The Quickest Man That Ever Lived?"
This statement seems foolhardy. Usain Bolt, by virtue of being the World Record holder for the Men's 100m is the quickest man that ever lived. This seems self-evident. However – in order to merely create a point, we will show that in attempting to try and explain how and why he is the quickest person on planet earth, data can be interpreted to suggest that in fact, he isn't.
Society, the ability to do sport as a living, better facilities and having not only full time sportspeople but full time coaches have pressed the fast forward button on development. All these aspects have played a part in the current world record being 9.58 as opposed to Jesse Owens's 10.09 – but do those numbers mean that Bolt was a better (and quicker) runner than Owens? I'm sure even Bolt himself would cast a doubt on that, and in analyzing the sport where he is celebrated as the greatest ever, some surprising results can be discovered. Even in events such as the 100m there is, remarkably, competitive and training strategies to be found that are much more complex than run as hard as you can for ten seconds. The 100m Men's Final at the 2009 Berlin World Championships was a seminal moment for sport. The Jamaican Usain Bolt was already the Olympic Champion and the hot favourite for the title, however he didn't only demolish the field in the process of winning gold but demolished the annals of sprinting history in the process. Bolt's scarcely credible time of 9.58 seconds in relative terms ridiculed his predecessors' feeble attempts at breaking the 10 seconds barrier. He was celebrated worldwide as the best sprinter of all time, and his performances broken down as far as stride length, power, speed everywhere from newspapers to blogs to web infographics. Television programmes were commissioned to investigate possible reasons for his physical dominance with experts ranging from ex-sprinters commenting on his technical prowess to geneticists proclaiming a potential culmination of years of selective natural progression among highly elite strain of his DNA playing a part in his exceptional feat. There was no doubt that track and field athletics, and indeed sport, basked in this exemplification of the human race getting more advanced and able physically.
Bolt may have won in a time which was phenomenal, and may also have only taken merely forty strides to cover a length of a track, yet closer analysis of this 100m sprint shows a nugget of data which is disconcerting to the purist. It involved going back in time twenty years. In 1988 Carl Lewis ran a time for the 100m which was a full two-tenths slower than Usain Bolt's. Lewis's quickest ever time at the 100m was 9.86 seconds; (which is only the one-hundred-and-fifth quickest time ever ran for the event). Rarely heard of athletes such as Richard Thomson from Trinidad and Tobago and Adekotunbo Olusoji Fasuba of Nigeria have run quicker times, so apart from Carl Lewis himself being an Olympic legend why does his performance count so much?
It revealed that despite Bolt's earth-shattering example in Berlin of us humans getting quicker; it showed, paradoxically, that humans were simply not getting quicker. By dissecting the 100m length of the race into 10m segments and working out the maximal speeds achieved, deductions could be made over who was, in technical terms, "the quickest". Lewis ran a top speed of 27mph seconds for his quickest 10m segment of his Seoul Olympic Gold medal performance. (This performance was, of course, usurped by Ben Johnson who was later found to have achieved this through drug cheating). Usain Bolt's quickest 10m split for his triumph yielded essentially the same top speed as Carl Lewis's in Seoul: 27mph.
The lesson here is that coaches and athletes learn from precedent, and we usually find a constant progression of standards in sport. People learn as they see and apply these lessons. The progression of world record times from 1958-1998 would testify to this. Once the bar is raised by one performer it sets in motion analysis by others on how to improve this standard, and this often involves analysis on how the bar was raised in the first place. Within the two decades between Carl Lewis in Seoul and Usain Bolt in Beijing academic research grants in sport exploded, and facilities for sport reached cutting edge levels allowing better training conditions more often with better surfaces. Sport science became a genuine industry based on data sharing, research and best practice in everything from correct sequences of training methods to recovery strategies. Rewards for sporting excellence also during these decades provided a driving motivation for more people to dream of attaining higher levels of success (many average sportsmen and women earn more than political leaders of countries) so the expectation of significant progression should have happened in the track and field blue ribbon event from 1988 to 2018. To a certain extent, it had. Usain Bolt's 9.58 seconds performance being hugely superior to Carl Lewis's 9.83 seconds; but not because of overall top speed ability. These were the same.
Carl was as quick as Usain, even though Bolt would annihilate Lewis in a race by almost two tenths of a second. The reason for this would not be because his was a quicker runner, but because he could maintain that speed for longer. That is the crazy thing about Usain Bolt's world record times – they are built as much on endurance as they are on raw speed, and that can only be established by understanding as much about his performance, and the event demands, as possible. Sport more than any other aspect of society does have a trait of celebrating the new and the supposed "better" methods – but this simple fact of Bolt not being quicker than people 20 years before offers a sizeable chunk of humble pie to the concept of "bettering sports performance" (whatever that means), because the Men's 100m Olympic Final is the blue flag event which overrides all others when it comes to marginal gains and a generation's athletic prowess.
The trickle down effect of that information alone is a blueprint for future success. By analyzing event demands and performance, improving maximal speeds, it would seem, would be the wrong way to break Bolt's records. Athletes have been chasing this for a hundred years and seemingly the quickest athletes in terms of maximal speed aren't necessarily the ones that finish first or even break world records. That concept would be completely foreign to the layman watching a 100m race as much as it would be to a sport scientist, but Usain Bolt has proved that being able to maintain a higher speed for longer, whichever way he trained to be able to do that, has made him labelled the fastest human ever. Even when, technically speaking he isn't. He has just been able to run 100m in less of a time than anyone else.