Finisher of the Month - Stuart Clarke - Legacy Lives
Stuart Clarke our 'Finisher of the Month' tells us his super inspiring finish line story.
by Stuart Clarke
Inspire yourself, combat your mind, do something memorable, promote a great cause... 2019 changed my life in such a positive way.
A friend, housemate whilst at Swansea University and professional rugby player Ian Williams passed away in February 2018 devastatingly, due to a heart condition he was unaware of. Ian was an athlete, dedicated, committed, hard working and always strived to achieve his goals. With Ian in mind, in 2019 I decided to transform my own life and well-being, by reliving a part of Ian's legacy and passion for goal setting in sport. Ian loved a list and would keep one in his wallet to keep track and remind himself of his goals.
At the start of the year I couldn't run more than 5km without resting half way through, never cycled and couldn't swim more than 40m without struggling for a breathe!
I planned 13 events, "The List", to take me through the year consisting of 4 10km runs, 6 half marathons, 2 Olympic triathlons and a 50mile cycle. I had never been one for endurance, my mind would always take over and say I couldn't do anymore. I had every intention of combatting this mental blocker whilst at first thinking "WHAT HAVE I SET MYSELF"!!
The events were all varying difficulties, most notably Brecon Beacon 'half marathon', 16miles with a 600m ascent. None the less, I took each one in my stride and told myself it wouldn't be a challenge if it was easy. It took me at least 3 months to break my own stigma towards endurance and realise that I was actually making progress and improving performance. From then I continued to build and broke all my previous times that I'd set. The early mornings and effort was paying off.
Triathlon training came with new challenges, jumping into the pool or open water was a complete shock to the system and an area that I thought would be easy.... little did I know! I had to take the swimming and cycling training as seriously as my running to improve. By the time I'd done my second triathlon I had a burning desire to do more and push myself to new boundaries, so I set myself a new goal for 2020 to complete an Ironman 70.3.
I completed my last event in December, finishing with a 47.18 10km time which was the perfect way to wrap up a successful year and incredible journey. I managed to also raise awareness and £2,200 to support the Ian Williams Foundation which has been set up to heart screen athletes at all levels, in particular in rugby. It's amazing to be part of a community of some many people doing incredible things.
My advice to anyone wanting to make a change in their life is, to be patient, stick at your goals, be your own competition and most of all, enjoy it. That's what Ian would have told me.
2020 will be another big year for me, competing in the half Ironman, but I also intend to start my own 10km event that will support The Ian Williams Foundation further and boost more screening for more athletes. Watch this space!
A legacy lives in all of us! @legacy.lives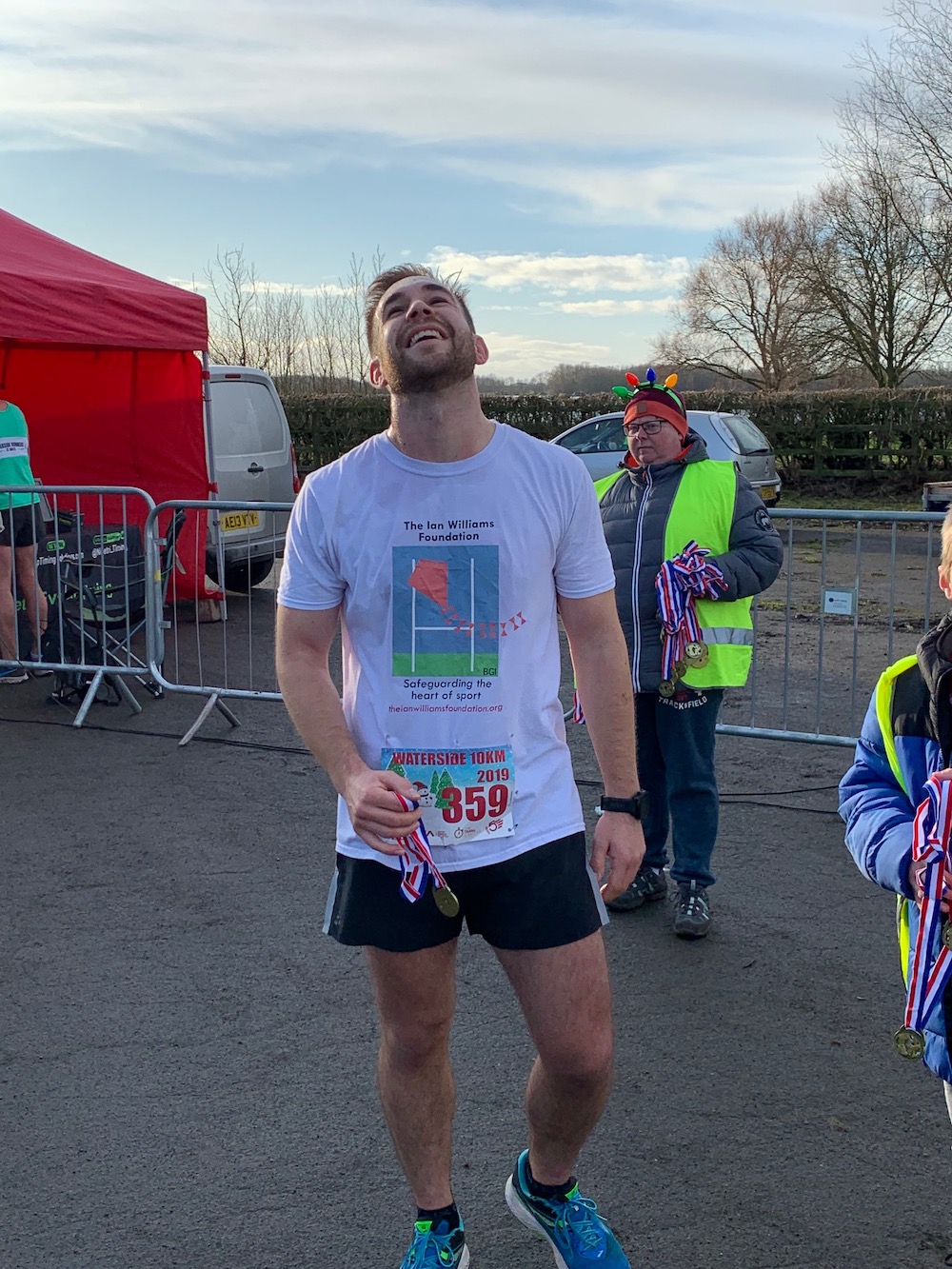 About the Author - Stuart Clarke
Stuart joined My Finish Line in December 2019 and is one of our star Finishers. To see Stuart's training in more detail check out his My Finish Line plan for The Brecon Beacons Half Marathon here !