Guest Blog - Hannah Brier
A Training Q&A with Elite Athlete Hannah Brier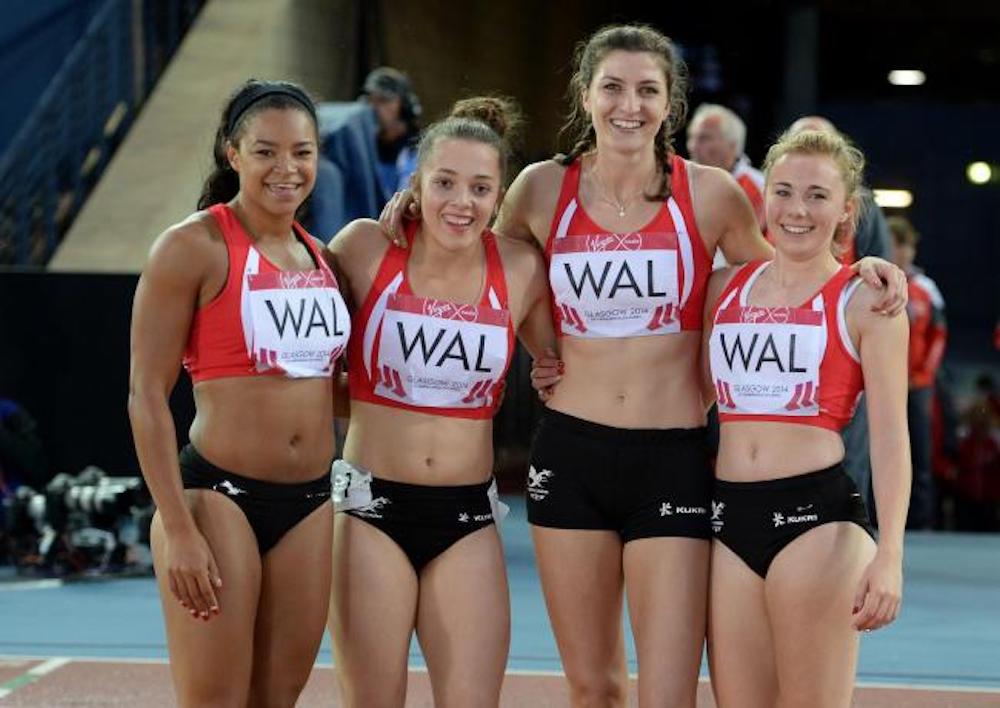 by My Finish Line
For this blog we are excited and humbled to have Hannah Brier as a guest. Hannah is one of the UK's best sprinters having represented Wales and GB in the 100m and 200m. She appeared at the Commonwealth Games as a 16-year-old and won an European Junior Bronze Medal.
Hannah, thanks for agreeing to take part in this month's blog. The first question is a simple one- what attracted you to running in the first place?
I was always a really energetic child and loved any form of sport. I joined almost every school sports team and also went along to multiple sports clubs outside of school. I did hockey, netball, ballet, swimming and I absolutely loved it. Sports day at school was my favourite day of the year. When I was 8 years old, I remember winning every running event which lead my teacher to suggest that mum should take me to some taster athletics sessions. Being an ex-athlete herself, my mum took me down to Swansea Harriers, and I've never looked back since. I fell in love with the sport from day one. I tried every event and it soon became obvious that I was a little bit fast for my age, so I naturally steered towards sprinting.
Do you have a set pre-training warm up routine that you stick to whatever the weather? Or does it vary depending on location, conditions, time of the year etc?
My warm up routine stays exactly the same whatever the weather. The only way it differs is dependent on the session. For example, on days where I need to run super quick, I'll create a bigger focus on the acceleration warm up elements (i.e wall position drills and starts). Whereas if I was doing a longer and extensive running session, then the warm up may include more upright running mechanics. In terms of competition days, I like to combine all my favourite elements of the warmups and do what makes me feel good and ready to run fast.
Who were/ are your sporting heroes or inspirations and why?
Growing up my hero was always Jessica Ennis. Watching her compete on the tv at London 2012 made me realise how much hard work she had put in to get onto the big stage. She definitely inspired me to work hard and reach for my goals. As I've grown older and learnt a lot more about the sport, I've come to appreciate athletes such as Allyson Felix, who not only presents herself as a hero to track and field, being the most decorated athlete in world athletics history, but she also does so much more for the sport on the outside. Recently, she spoke out about how women are faced with injustices relating to pregnancy in sport, which stemmed changes in contracts and more stability for women. I found this really inspirational.
You are currently a student. Tell us a little about that and also when planning your daily calendar how do your athletics and academics integrate on a day to day basis?
I graduated from Loughborough University this summer and have now started studying an MSc at Cardiff Metropolitan university. I'd be lying if I was to say juggling athletics with my undergraduate degree at Loughborough was easy. It was tough. I trained 5/6 days a week and also attended full time lectures up until 3rd year. It was mentally and physically draining to start with, but like many student-athletes, I learnt to adapt and plan my life a lot better. I kept a diary of where I needed to be at what times, what work I needed to get done and I also had regular meetings with my sports mentor to discuss my progress and if I needed any support. I decided that I would split my final year over two years because I wanted to give equal attention to both aspects of my life, as they are both mutually important to me. In terms of MSc at Cardiff met, due to the ongoing situation I'm only on campus once a week which works extremely well with my training. At the moment, I train in the mornings and then get uni work done in the afternoons. I try to ensure that I get all my work done before Sunday, so that I can sit back and relax before the week begins again.
What types of training do you enjoy the most and why?
I absolutely love anything that's high intensity with a lot of reps. This is quite unusual, because most sprinters would rather less reps and longer recoveries (avoiding any lactic acid build up). I love that feeling once you've completed the session, knowing you've worked hard and given everything.
Having already achieved phenomenal success, what are your ambitions over the coming seasons when (hopefully) normal service resumes in the sporting calendar?
My main aim is to make the next Commonwealth games. Being a Welsh athlete, this comes with immense pride and there's nothing better than putting on the Welsh vest. Having made the games in 2014 aged 16, and then missing out on the 2018 games with numerous injury struggles, I'm extremely motivated to compete at the 2022 games.
You are a world class 100m/200m runner and your brother Joe a world class 400m runner. Who would win in a 50m race and who would win in a mile race? Were you competitive siblings also?
This is a hard one. If I was asked this question about 2 years ago, then I would have said that I would win the 50m, and Joe would win the mile. However, Joe has recently had a major breakthrough, and as much as it hurts to say, I think he would beat me in both haha (even though I technically have the faster 60m pb – he hasn't run this distance since he was 12 years old). We've never been competitive directly against each other in athletics, however we have naturally competitive personalities. Therefore, everything outside of sport becomes competitive, whether it be racing up the stairs or who gets to the shower first in the morning. It gets quite annoying for my parents when we're both at home together.
What technologies do you use in your training regime? Do you use heart rate monitors? GPS? etc?
I always wear my apple watch which clocks my resting heart rate and also my max/average heart rate during sessions. I like using this to see how intense the session was, and also track my fitness. Additionally, I also use the watch to record my sleep. I have also used an optojump system, which measures several factors whilst I sprint (i.e stride length and frequency).
Can you give us an example of an endurance session that makes you wince at the prospect of doing it?
As a sprinter, our endurance session looks a lot different to many other events. However, a session that makes me really nervous is multiple reps from 300m and over. I remember doing a 350m session in training, and I've never had such a big lactic acid build up in my life. Despite this, I absolute love the really hard sessions. I love the challenge and the way it makes me feel afterwards.
Thank you so much for your insight Hannah. You can follow Hannah on Instagram @hannahbrier98