Guest Blog - Jamie Price
A Guest Q&A Blog with one of the UK's Leading Up-and-Coming Triathletes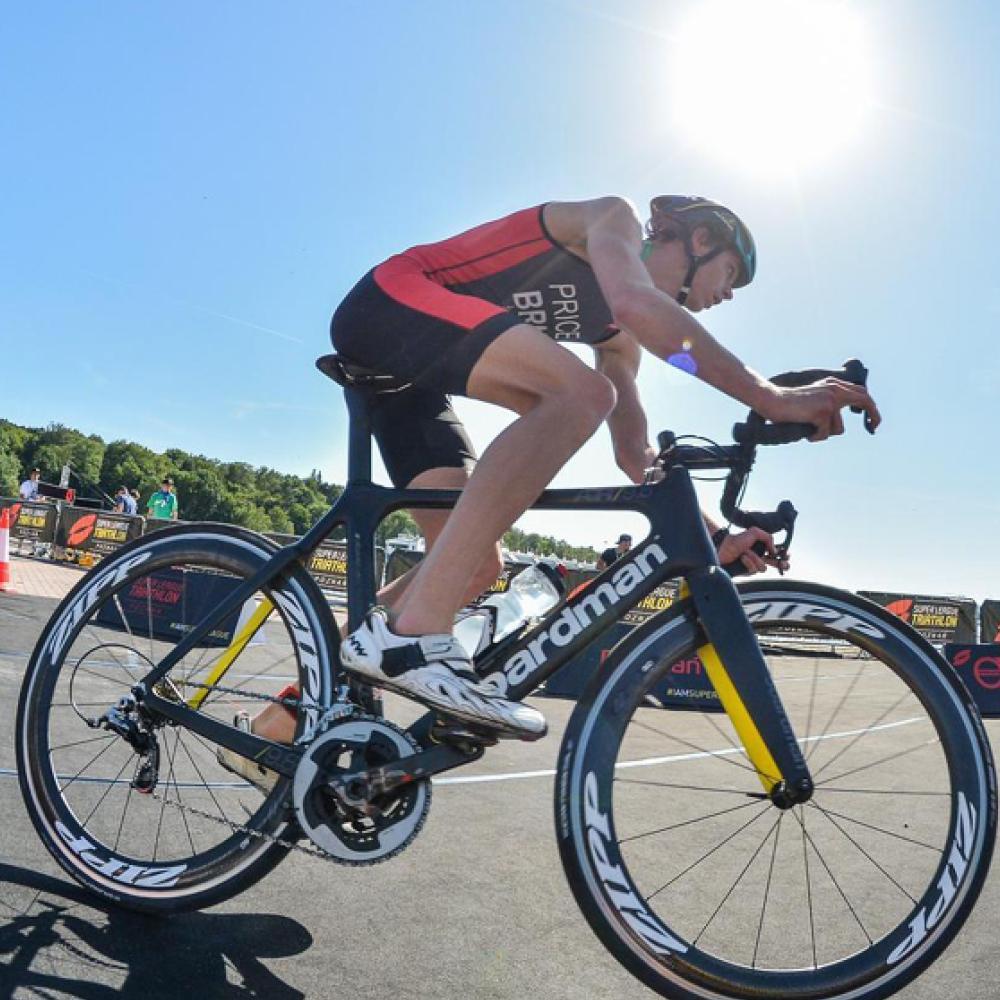 by My Finish Line
What inspired you initially to keep fit?
I struggle with quite severe dyslexia, so when in school I couldn't keep up with the other kids in class. So I had to work really hard to label an average student. But when it came to sport that same work ethic would yield better results. I then had something I was good at, so naturally that's what I formed my identity around. Sport then turned into a vital therapy for myself later in life, sport for me is a way of simplifying life into a singular goal, to go fast.
What is your preferred type of training?
I'm a big fan of training on the velodrome! It is both competitive and technical at the same time. I'm a big fan of the sessions as I'm not the most powerful bike rider but if you can ride a bike technically well you can be competitive with bikers that are way stronger than yourself.
We have interviewed many Olympic medalists whose own personal enjoyment of sport became a crucial part of their success. Tell us about your own journey to high level sport?
I've always been competitive at swimming and running, but it was only when I moved to live in the middle east, Bahrain, that I started triathlon. Bahrain is home to the Bahrain 13, home to the best triathletes in the world. This meant that World champions would stop by Bahrain and race and train regularly. I really wanted to be a part of the triathlon scene, so I started cycling. In a year's time I started to be competitive racing with the top boys and success breeds success. However when I came back to the UK I got swallowed up and have only just started to see some success on the uk scene this year. My goal is to be competitive both on the UK national scene and in Europe to see if I can have a future in the sport. Enjoyment in the sport is crucial, but approaching 23 I'm now having to look at sport from a performance perspective as well as an enjoyment perspective.
How do you measure your training and set goals for yourself?
I measure all my training and upload as much data as possible for my coach. It can be difficult as my coach lives in Europe so everything we do is data driven not session by session driven. As for goals it is all about putting together good performances for me, however that can only come from training consistently. For this season just gone I knew my bike was weak, so I worked on it over the winter then spent the first part of the season just racing duathlon to prove my bike fitness wasn't just the numbers. After managing to win 3 duathlons and come 2nd in my last one I was confident in going back to triathlon.
What piece of advice would you give someone starting their first triathlon?
Enjoy it! It sounds simple, but it's very easy to take this sport very seriously. I look at triathlons like taking a test. You should do all your preparation work before the test and use the race as a chance to show off the work you've done. The race is a chance to celebrate and enjoy the hard work you put in when training. Also when training, don't over train! There's nothing wrong with leaving a session not hurting, it's about being consistent, one key session per week with intensity for each disiplin, the rest should be aerobic. And keep it aerobic, if you're struggling to talk during an aerobic session you're pushing too hard and you'll get injured or ill.
Many of our members are ironman finishers. Is improving technique, aerobic endurance or speed (or a combination of all three) important to take performance to the next level?
Both aerobic endurance and speed are important, and it's all down to consistent training and having an attainable training program. It will always help doing your training with other people if and where possible. Trizone is a good center for advice and training with like minded athletes.