Guest Blog – Ralph Mitchell – Professional Sports Doctor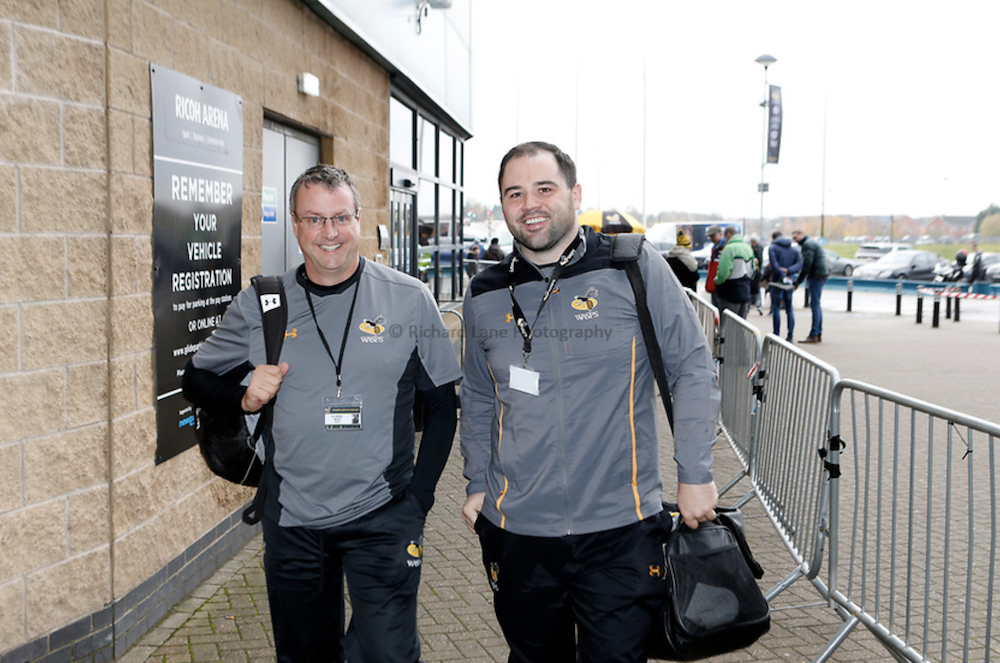 by My Finish Line
Ralph Mitchell is a doctor at Wasps Rugby, one of the most famous and successful sports teams in Europe. He has been involved in professional and international sport for years, but more recently sport has engrained itself within him in a different sense. Ralph is a seriously committed cyclist, Zwift-addict, and conqueror of Mount Ventoux on many occasions. We caught up with Ralph to get his views on how his own fitness journey and his life at the top end of both medicine and sport interact.
What are the realities of being a doctor at an elite sports team?
It is a privilege to work with such committed and dedicated people, from the players to the back-room staff. What I find satisfying is that every person involved in the journey, not just within each club but relatively speaking across the board in sport works and strives to improve practice when it comes to safety, performance and also welfare. Obviously the stakes are high when it comes to ensuring professional players are kept as healthy as they can be, and in a collision sport like rugby this can be at the top of the in-tray day after day, but a team of physios, medics and coaches integrate and work together in order to ensure best practice is aligned.
Do you find that your own passion in fitness align with your role?
I was relatively unaware of the positive power and grip that fitness can have on you until I was in the middle of that grip myself. I enjoy immensely the challenge of testing myself on the bike, and everything from the improvement in performances to the knock-on benefits on my own health becomes a catalyst for me to keep on striving for more. I can honestly say that I look forward to stepping on the bike at home and jumping on Zwift and it is certainly something I can relate to with the players that I share a journey with. I have a better understanding on the drive and motivation that they have, and the decisions that they make in relation to their goals, because I have found that I have exactly the same (albeit on a much lesser scale with much lesser concerns that they) in my own pursuits.
If I can ask you to wear both your Sports Doctor and Fitness Enthusiast hats at the same time; you mentioned "knock-on" benefits of fitness – what do you mean by this?
The benefits of keeping healthy are various – from general weight management (which has a huge consequence especially in western society these days) to mental health, which is now being finally recognised as the cornerstone of health it should be. Somewhere in between these two pillars of health lie the simplicity of enjoyment of the act of training itself, the improvement in joint mobility and strength that come from training, and speaking personally the habitual changes I have made along the journey from learning about my own diet, to planning my days better in order to facilitate my training, have had a hugely positive effect. I could tell you now about the importance of sleep, diet, mobility, etc not just because I was taught it at medical school and forms a basis of clinical advice to patients, but from my own day to day life. I actually celebrate its effects, not just prescribe them.
Those reading this will almost certainly appreciate the fine line between pushing yourself too hard to achieve your goals, and venturing into the zone of over-training or illness/injury. What are your thoughts on this?
One saying I heard once was you don't get fit in one session and you don't get lean in one meal. The same applies for gaining performance as much as it does in losing it. I believe that, of course, a part of the fun and excitement especially in endurance events is pushing yourself, but 'us' endurance athletes (and I do include myself in this) have a tendency to enjoy pushing our own limits and sometimes confuse the resilience of breaking through pain barriers as far as fitness with the wisdom of attempting to break through actual pain barriers when it comes to injury. Pain in the body exists for a reason when it comes to musculoskeletal issues, and I believe having the discipline to recognise and look to rest or treat something that doesn't feel right is the same discipline as looking to break through the pain barrier when looking for personal bests.
Wise words indeed! Thanks Ralph. Congrats for reaching the Premiership Final last season and good luck for the rest of next season with Wasps and also with your own fitness journey.