Guest Blog - Sanna Duthie- FKT Pembrokeshire Coast
We cuaght up with Sanna Duthie 1 week on from her record-shattering run of the entire 186-mile Pembrokeshire coast path.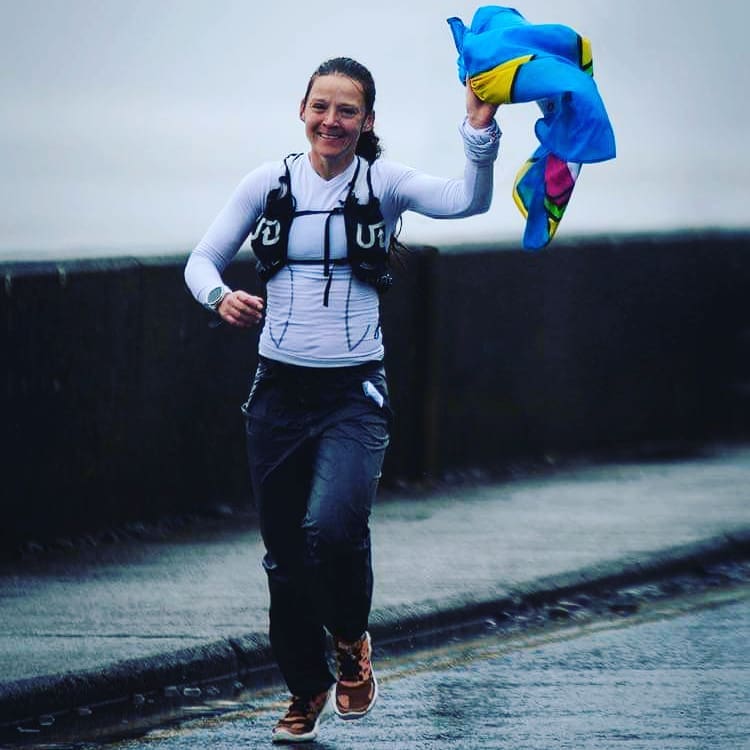 by Sahar Khan
Sanna Duthie from Milford Haven in Pembrokeshire is not just your run of the mill weekend jogger. Just over 1 week ago, Sanna (age 33) was battling rain and high winds along the front at Amroth beach to complete a run of the entire 186-mile Pembrokeshire coast path in 51 hours and 35 minutes, beating the previous record by a huge 13 hours.
I was lucky enough to catch up with Sanna 1 week on from her incredible challenge and ask her a couple of questions:
Now that you've had about a week to take in what you have achieved, how are you feeling? Have you come down off the cloud yet?
Up until thursday it's been quite busy. I didn't expect the level of attention that I have had. I'm not used to it. I got the confirmation of my FKT (Fastest known time) for the run verified yesterday so now I am a lot more relaxed that it's done and official.
Can you tell us a bit about you? Running is not your full time job correct?
I am an office manager for a company which sells liquid waterproofing material in construction. Running is my passion which I do have to fit around my day job. I was straight back to work on Monday after completing the run.
Tell us a bit about your running journey.
I had done a couple of small races and done quite a bit of gym work before but 2013 was my first Marathon. I did the Tenby Long Course Wales Marathon. I learnt some things from that race but most importantly I learnt that I loved running.
Then I did a few other marathons including London. But what I realised was that I didn't love road running as much as I loved trail. In 2015 I did my first ever Ultra - the Gower 50 and have since run about 15 Ultra Marathons.
I did a 100 mile race in 2017 on the Pembrokeshire coast path. Which I loved as it was kind of an adventure. I realised I wasn't too bad at that distance and then that's when I got it in my head about doing the whole thing one day. But it was covid really that prompted me to do it now.
You have mentioned before that you trained over 300 miles a month for this. That's about an average of 10 miles a day! How did you go about even getting started? What sort of level of fitness did you already have?
I had a great racing season in 2019, so I already had a good level of fitness and had had a good winter in the gym. I was feeling really pretty great. My last race was 21st dec 2019.
I was planning on racing in the Pyrenees when the pandemic hit. I didn't wanna lose any of my fitness that I had built up so that's when the idea of running the whole of the coast path came up.
Can you tell us a bit more about what you like to do in the gym?
Mainly my gym work is to complement my running. It's to upgrade the system. Coast path running is hard on your muscles and joints. And you need to strengthen those in order to not get injured. Doing strength and conditioning has made a big difference to my training and recovery has been much quicker as well. I work with someone in the gym who makes programs for me. That helps also ensure I am not doing the wrong things or lifting too much which could itself end up causing me an injury
Did you set a training plan?
I'm a free spirit with my running, I plan it all myself. I have been coached before but it didn't work for me really. I think that is mainly because I am not very good at taking my rest weeks though.
I do have a rough schedule but it probably isn't as rigid as other people's. I have weekly mileage goals. I do things in 3-4 weeks blocks and then have an easier/rest week.
I try to get around 40-50miles in between Monday and Friday and then top it up on the weekend. That means running before and after work. I try to do about 1 hr in the morning and then 40-60 mins in the evening at least 3 days a week.
How do you stay motivated in the winter months?
I am a lot less chirpy in the winter but I know the value of a solid winter of training. I always think to myself that "hard winter miles make summer smiles". This year was an even tougher winter for everyone. For a lot of reasons such as not even being able to meet with friends for a run. I think that actually really prepared me mentally for this challenge. Especially when the weather came in.
You Attempted to break this record before in August last year, but after 63 miles you had to abandon the record attempt for your own safety, due to the weather. How did you cope with that both mentaly and physically?
It hit me pretty har, I was absolutely gutted. I wanted it so much. Afterwards, part of me thought I had made a mistake or that I was a wimp. But then I saw the weather come in and was assured I had made the right decision. If I had kept going I could have hurt myself. I felt like I had let people down, especially because I was raising money for charity but I got so many lovely messages from people which helped me cope with that. I was already really determined before but having had that set back, somehow I was now even more determined.
Did you have to deal with any injuries in training?
In the past I had an achilles injury which became worse and turned into something more serious. Ultra running involves a lot of trying not to get injured. Especially your feet! But I've spoken to a lot of people about injury prevention. The most important advice I have been given is not to ramp miles too quickly. It's good to use 10% as a rule of thumb. If you have niggles, work out the weakness that are causing them and address them before they turn into injuries. I have regular sports massages now and that helps to address any niggles before they become injuries.
How were the highs and lows in this challenge? Were there any particularly extreme ones?
I had 1 really bad low when I wanted to quit. It was on the first night. At night your body doesn't want to eat so you stop taking on food and liquids which was not great. I was questioning "why am i doing this?" and "who did I think I was trying to attempt this". But I had family and friends around me through the whole thing. They know me well. I told them not to let me quit unless I was very seriously ill. That's just what I needed to get me through. It's important to have people around you to help you make your dreams come true and not quit with you.
My Dad always supports me. I always doubt myself a few days before a race and this time was no different. But my Dad was telling me I could do it and was there every step of the way.
Did you practice your nutrition before hand? For example did you have to practise running and eating at night?
I didn't practice running at night but I probably should have. Recently, I changed the food I'm using. I started using electro tablets which were a game changer for me. I took them a few days before and found it to be a really great way to prepare, without having to eat loads of bad food in the weeks/days leading up to it.
During the last few hours of the run, I was just taking any gels anyone would give just to get through but up until then, I had been sticking to what I practiced with. Also on the second day my support crew suggested I try getting Chicken & sweetcorn sandwich from tesco down and it worked a treat. I felt fuelled within 20 mins so then my Dad organised to get a bunch more chicken and sweetcorn sandwiches for me. Wasn't anything I had tried before but it just did the job at the time.
What was your highlight of the whole experience?
The first 13 hours went amazing for me. I ran so strong and I wasn't tiring out. I stuck to my pacing plan (which is unusual for me) and I was running with friends. My dad was there the whole way as well which meant the world. Every time I saw my Dad's Land Rover or my partner's car, I was so happy.
What about the finish line moment in Amroth? What did it feel like?
The finish was very emotional. Seeing my friends, family and all the flags. I am still emotional thinking about it now. I couldn't believe I had done it. There is a stone which marks the finish line. When I saw the stone and I knew there was nothing else in my way now and that I had done it, it just felt absolutely amazing.
What does recovery look like for you before you start training for the next challenge? Will you take a bit of time off?
No no time off! I am entered for the Pegasus Grand Slam which consists of 6 races. There is one at the end of June which is about 40-50 miles. I also have 2 x 200 mile races planned for next year as well as another FKT on my mind on the Ceredigion coast path.
I still don't feel 100% after last weekend yet. The main side effect has been fatigue to be honest. It also seems like I need to be eating food all the time. But I am getting there.
With lock down seeing many of our race calendars evaporate for over a year. There is certainly a real hunger from many runners who regularly like to race to find something to train for. Others might see what you have done and thought maybe they should set themselves a similar challenge. Maybe not to the same scale perhaps. What is your top tip for anyone considering something like this?
Run your own race and listen to your body. You have to do what feels right for you. Practice nutrition as much as possible too, whether it's a short or long run. But my ultimate top tip is, whatever you do, make sure you enjoy it. That is the most important thing.