My Finish Line Heroes - Joan Benoit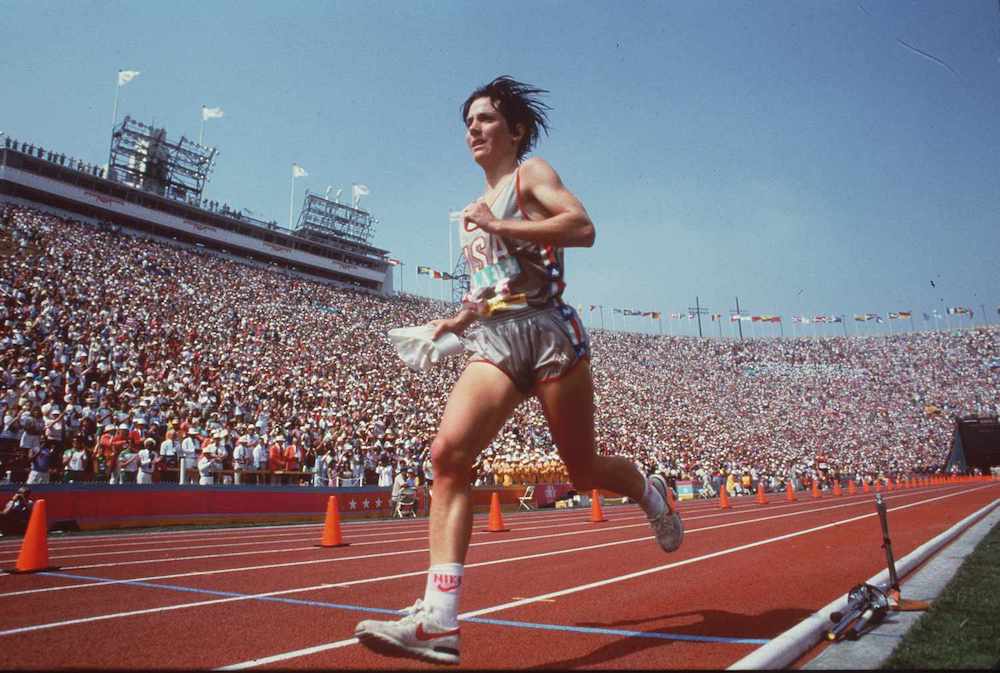 by My Finish Line
You might not have heard of Joan Benoit, as her name isn't celebrated with as much gusto as it should; but it is partly due to her trailblazing exploits that if you are a female you compete in running distance events either socially or competitively. This wasn't because of some political movement in the 1800s or an act of protest in the 1930s. What she accomplished in one fell swoop was to shift the perception of women's distance running; and it was done as recently as 1984.
It may be hard to believe, but 1984 was the first women's marathon in the Summer Olympics. Only two Olympics' prior to that in 1972, women were actually banned from running at any marathon worldwide. To emphasise the ridiculousness of the situation, the longest race for women in the 1980 Olympics at Moscow was the 1500m.
The narrative, of course, (not only in the preceding decade in elite sport but for millennia prior) was that such events were 'too tough / unbecoming' for the 'fairer sex'. It was not until the same year as "Do They Know It's Christmas" was released as a single and Beverley Hills Cop topped the movie charts that it was deemed 'appropriate' and 'safe' for women to run the marathon at the Olympic Games competitively. There had been historical pushback at elite level to incorporate certain events for women in track and field athletics – this included the Shot Put, Pole Vault, Steeplechase and Marathon events. Four elite women dominated distance running in the 1980s – Benoit, Rosa Mota of Portugal, Grete Waitz and Ingrid Kristiansen of Norway; and with the Los Angeles Olympics hosting the first ever Women's Olympic marathon this race was under the spotlight for both advocates and cynics alike.
We impress on you therefore how the landscape was during this time – marathon running for women had been banned, discouraged, not accommodated for; and frowned upon prior to this Olympic Games. Imagine therefore the ripples when Benoit won the LA Olympic marathon in a staggering time of 2 hours and 24 minutes – a time which would have seen her finish in the top 50 in the men's race. This truly dealt a heavyweight punch in the solarplexus for anyone that dared question the standards and appropriateness of the event for women. That patriarchal misogynistic worldview died a death that day, in that single race, and for many people it was because of Joan Benoit of Maine, USA.
Had Waitz or Kristiansen won – and they were only merely a few hundred yards behind at the finish – the accomplishment would have been equally as great, yet as fate would have it, under such forensic spotlight, it was won by an All-American girl thereby ensuring the profile and celebration of this performance was amplified. Maybe this was pre-ordained; because from this famous win female long-distance running went from being a marginal, somewhat fringe sport to being aspirational. Benoit's win in such a commanding performance ensured not only that the mandate to continue the event was sealed after a single race, but the millions of people worldwide that saw her win inspired a groundswell to provide a market for female distance events the world over. Female long-distance running, something which up until the early eighties had been held at arm's length by its exclusion at the top level became commercially viable. It arguably had always been demanded by the masses, yet here was its flagship moment.
Benoit broke through a glass ceiling and did so while only being 14 minutes behind the winning male's time at the same marathon. She posted a world record time of 2:21 at Chicago in 1985, and maybe even more impressively ran a 3-hour marathon at age 60 recently in Boston. From 1984 onwards, women's marathon grew and grew up until Paula Radcliffe and her kind became poster heroes for bedroom walls all around the world. The next time you set off on a long run, think of that phenomenal performance at Los Angeles in 1984 and the butterfly effect that it created. Considering the shockwaves created, Joan Benoit should truly be a household name celebrated by all distance runners male and female.