The Value of Endurance
The Benefits of Leaving Your Comfort Zone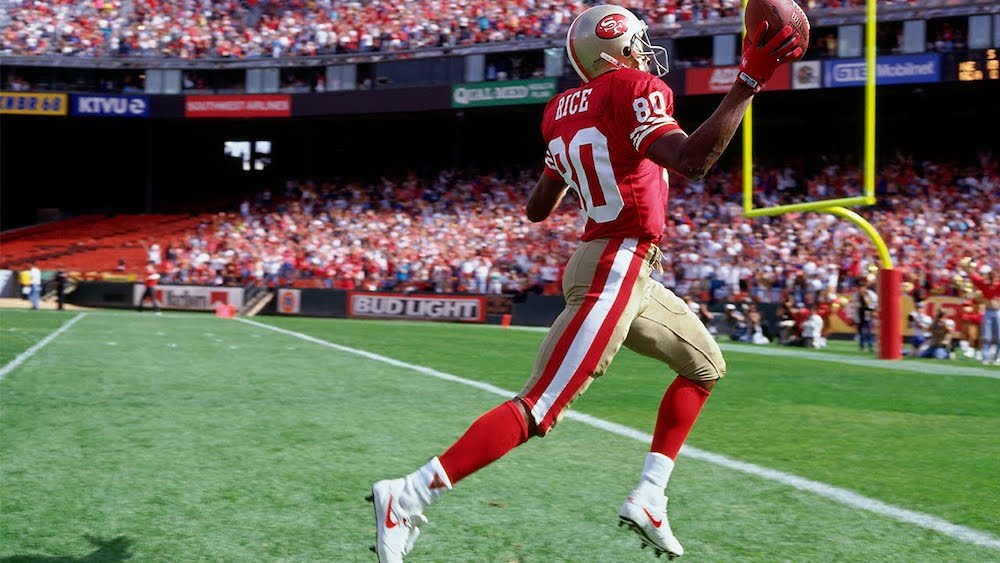 by My Finish Line
American Football isn't a sport which lends itself to the notion of endurance or lung capacity. Which is why this story is a lesson in embracing the exceptional. Few American Footballers, or indeed sports people, are held in such esteem by their peers as Jerry Rice. He played professional football for two decades – a sport which rarely affords five years for many other professionals. He won the Super Bowl three times, became an NFL hall-of-fame inductee and had his number (80) retired by the San Francisco 49ers. What separates Rice even further from the elite however is the amount of respect he earned for his sheer work ethic.
Rice was relentless. Everything was done at maximum intensity for maximum duration. He would race, compete, outjump, and do these constantly when others would be running out of batteries. He would take maximum pride in his fitness conditioning, and a hill at the Edgewood Park and Natural Preserve in Redwood City, California was his secret. He would run up this hill – which he named his 'fourth quarter' – to acknowledge that the experiences he gained both in physical and psychological terms on this arduous piece of Californian terrain would simulate and replicate the experience of playing tired at the end of a game. This hill wasn't so much a training ground, as a testing ground. This type of training became a secret part of his success.
Except, this 'secret' wasn't a secret. It was a widely known fact that Rice trained in this way. Everyone knew that some of the San Francisco 49ers trained in this exact location in their off-seasons. Even were this not the case, uphill running as a means of stress on the lungs and the legs wouldn't exactly have been a new-found trend as late as the 1980s. Rice, and his peers, had the correct attitude towards application in their training and merely made the decision to use this as their proving ground. The choice of running until they vomited was merely a symptom of a wider attitude of wanting to work hard. The hill was just their outlet of expression.
The 'secret' behind developing an incredible work ethic isn't a secret at all – everyone knows one means or another to inflict physical pain and instill mental fortitude. It is merely to a choice on whether to do it or not. Was it a coincidence that Rice scored more fourth-quarter touchdowns than any other player in NFL history? This leads us to a presumption on application. The hard work that we do (or choose not to do) is just a reflection on our attitudes towards self-improvement. The choice to run up that hill is closely linked to our narrative on how much we want to improve. There is always the choice to believe that running up that incline over and again it isn't important, but if this is the choice that we make then we cannot complain if during the fourth quarter we are overtaken, out-jumped or out-scored by a forty year old veteran playing in his twentieth season by the name of Jerry Rice.